C Ahead Social is an all-in-one social media management platform. All the features you need in one, concise package.
Explore our Features
Every feature a social media manager needs: post scheduling, social listening, sophisticated analytics, custom reporting and more.
Sophisticated Analytics
Drive strategic decision-making across the business with meaningful insights from social data and analytics.
With C Ahead Social you can track the performance of everything from your Facebook pages and Twitter profiles, to business reviews, website site performance and blogs. You can quickly and easily organize your data by customers or business. Track your own social profiles as well as profiles of others (great for competitor analysis).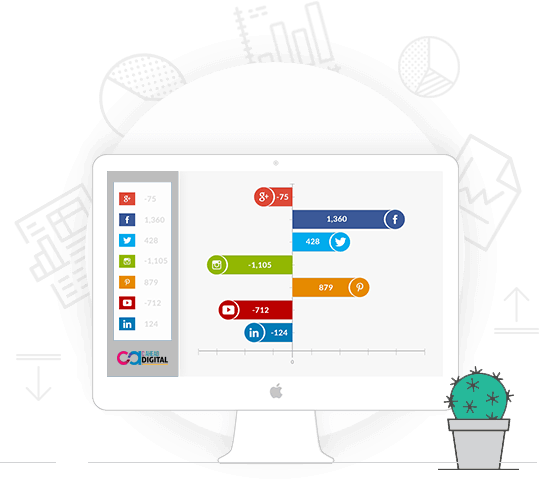 Analyze
Access all of your social data in one place. Quickly and easily engage with your audience. C Ahead Social dashboard is full of useful reports covering every aspect of your social profiles. Enable notifications and receive detailed daily and weekly reports. Download and export all available data and reporting any time.
Compare
Compare network performance and understand the impact of your social media on your business. Go beyond looking at insights on a single social profile. See them side-by-side. Find correlations between your social and business activities. Identify reviews. Search and track keywords!
Execute
C Ahead Social is an all-in-one tool. We have it all – from reports and publishing to social keyword searching and engagement. No need to log into every social network account you own. Social media managers will enjoy ability to securely manage client credentials and produce customized reports.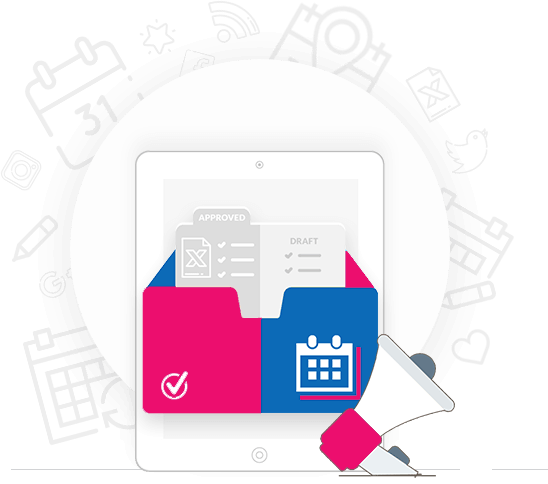 Social Media Posting
Advanced tools for social media posting, scheduling and real-time communication across networks and devices.
Easily schedule and post on as many social networks as you wish. C Ahead Social scheduler brings together advanced social media publishing tools and intuitive workflows so you can efficiently plan, schedule and post messages across networks from a single platform.
Scheduling
You can set your publication to post right away, later, repeat at specific intervals or add it to the queue. To avoid having your posts look like spam – we do give you ability to customize each publication for recurring campaigns.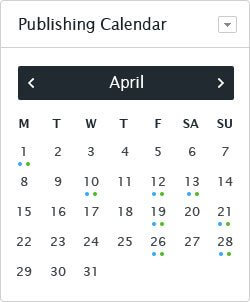 Geocoding
You can easily geocode your publication with your current location or any other place in the world. Tagging your publication with geo coordinates allows you to tap into local markets and audiences.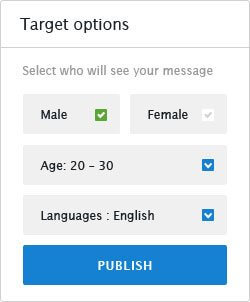 Targeting
If you are looking to reach a specific user demographic with your publication you can use publication targeting. Target your audience based on gender, age, geography, career and location.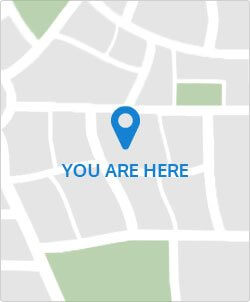 Bulk Schedule Messages
Bulk Schedule allows multiple posts to be uploaded, scheduled and published, all at once. It's accomplished by allowing users to upload a special spreadsheet that tells C Ahead Social the time and content of every post you want to schedule.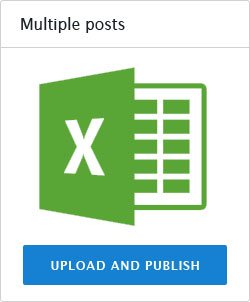 Social Media Monitoring
Leverage your social data with our unique social media listening tools.
C Ahead's comprehensive social listening tools empower marketers to execute brand monitoring and analyze social data for marketing insights. Gather introspective, contextual insights to topics, hashtags and influencers relative to your mentions to find new and incremental marketing opportunities.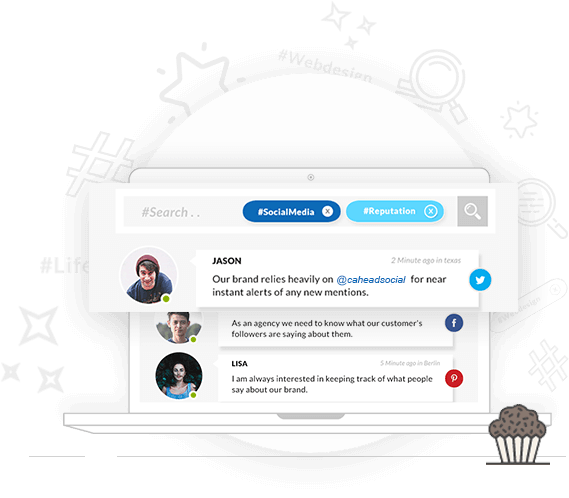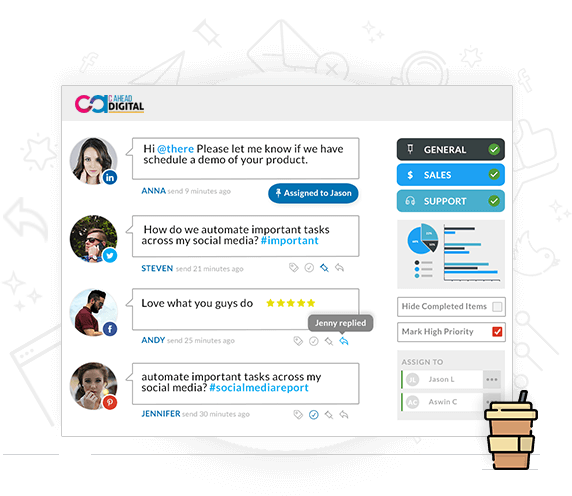 Smart Social Inbox
Never miss a message or interaction that matters to your business.
With C Ahead's Smart Inbox, you'll save hours out of the week by having all of your social messages across all of your social media profiles gathered into one, beautifully-organized stream. Once you dive into the stream, you'll be able to engage, join conversations, respond directly to customers and more–all in an incredibly time-efficient and effective manner.
Unlimited Presentation-Ready Reports
Reports are designed to make social media analytics data easily digestible and ready to present.
Build reports specific to your business needs using C Ahead Social's data, analytics and presentation-ready report templates, and then automate the delivery of those reports to your team and customers.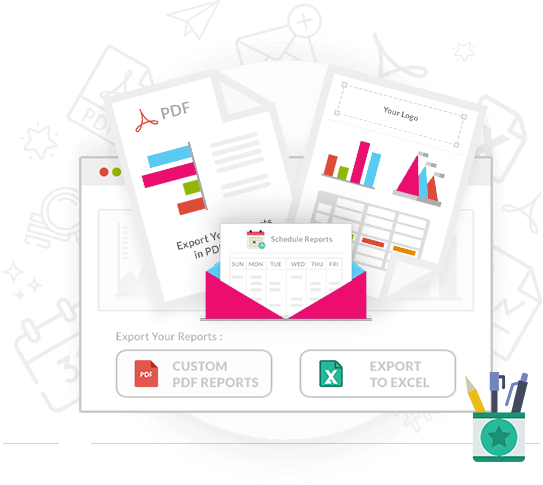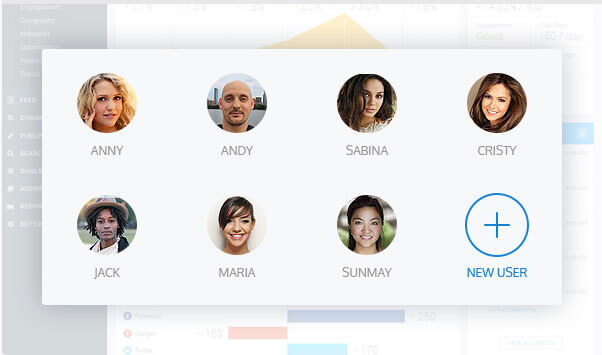 Manage your social media as a team
Delegate work and give others access to your projects. Add unlimited team members to your projects and set customized access levels. Convenient sorting by brand, location or however you wish to separate profiles.
Team Member Performance Reporting
Find out how each of your team members is performing. How many comments they responded to, how many publications they have scheduled, how many reports have they run, etc.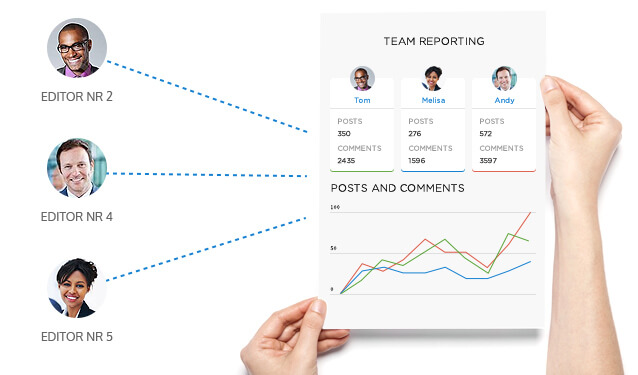 Trusted Partnerships & Integrations Across Leading Platforms